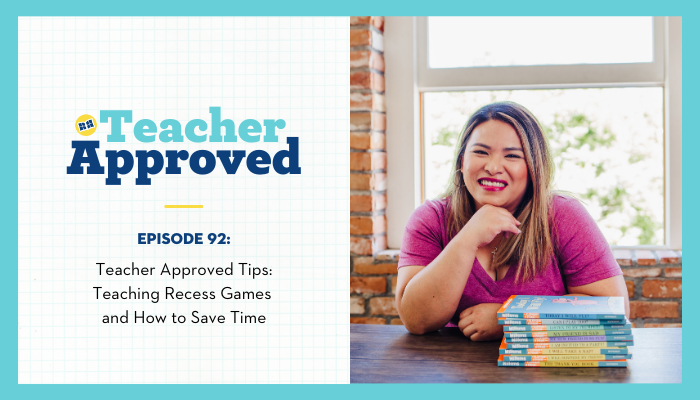 Click below to hear the full episode:
Listen on Apple Podcasts | Listen on Spotify | Listen on Stitcher
What Are Teacher Approved Tips?
This is a special series of episodes from the Teacher Approved podcast.
Every Thursday, we'll bring you a weekly bonus episode highlighting new and favorite teacher-approved tips you can apply in your classroom as soon as today.
This Week's Teacher Approved Tips:
[00:53]: Tip #1 – Teach your students games to play at recess.
Do your students come back from recess arguing from issues that were discussed during that time? Well we've got the solution for you!
With proactively teaching recess games at the beginning of the year, you can eliminate potential issues while giving students a list of games to play. There are many benefits and we encourage your grade and school to get involved too!
[5:44]: Tip #2 – Guest Tip from Michelle of Stepping into Special Education – Eliminate what is not essential in your teacher life.
The most common phrase we say as teachers is we don't have enough time! So how can we fit everything into our day? Michelle Vazquez shares how eliminating what's not essential in your teacher life helps save you more time.
Michelle is a resource specialist & special education teacher that has been working in public schools for almost 15 years in Southern California. She is the host of a top-ranked podcast called 'Stepping Into Special Education'. Michelle's mission is to help special education teachers with strategies & support. In her free time, she loves going to Disneyland with her husband & two young boys.
Do You Have a Teacher Approved Tip?
If you have a teacher-approved tip that you would like to share, please send an email to [email protected]. Or, you can leave us a quick voice message here!
We would love to feature your tip in an upcoming episode of Teacher Approved.
Resources Mentioned:
Read the transcript for episode 92:
Emily
Hey, there, thanks for joining us today for teacher approved tips, a special series from the Teacher Approved podcast. Every Thursday, we're bringing you a weekly bonus episode highlighting new and favorite teacher approved tips from us and other amazing educators.
Emily
Our first tip is teach your students games to play at recess. Get us started with this tip, Heidi.
Heidi
My pleasure. So is there anything worse than having to spend your precious recess time dealing with the issues that arise on the playground with your students, or policing a disagreement when they come back inside?
Emily
It's definitely the worst. And one of the best ways to combat that issue is by proactively teaching your students recess games at the start of the year. Now, what are the benefits of doing this?
Heidi
Well, one of the reasons that this tip is so helpful is that it combats naughtiness from kids who just don't know what to do at recess, so they get bored. Having a bank of recess activities they are familiar with will help them to choose something constructive to do at recess.
Emily
And it also heads off another big issue, which is students bickering about how a game should be played at recess. Everyone can be coming to the game with their own ideas of how it should be played. But if you teach them the recess games at the beginning of the year, then everybody is on the same page about the rules.
Heidi
So early on in the school year, dedicate some time to teaching your students recess games. I tried to take my class out at a different time for recess so that we could just do it with our own class and I could make sure I had their full attention.
Heidi
Or another idea is to get your whole team involved. Each teacher could choose one to two games that they're going to teach and then you can have the students rotate through at recess times for a week until everyone knows all the rules.
Emily
Having a shared understanding of what the rules of the playground games are not just for your class, but potentially the whole grade is a total game changer.
Heidi
And actually, I was lucky because my whole school participated in this. Each grade level chose a set number of activities to teach their students. We started with the basic activities in the lower grades like you know, jumprope rhymes and built up to the actual sports roles in the older grades. That way all the kids had plenty of activities to choose from.
Emily
So every year the students were learning new games for recess. And then the next year they learned some new ones. Is that Is that what you mean? Yes, absolutely.
Heidi
Yes, absolutely. So it was just always kind of building on itself.
Emily
I love that That's so clever.
Heidi
And all of the grade levels combined their rules into a binder that we kept in the library. So we had kind of like a school rulebook that we could reference if we ever had an issue.
Emily
That is so smart. Even if your whole school or just your team isn't on board with this, and it's just you, it's still a worthwhile endeavor for your own class.
Emily
It's much like dedicating time at the beginning of the year to teaching procedures to save you tons of time in the long run. When you spend the time upfront to teach these recess expectations and get everyone on the same page with activity ideas and rules, you are eliminating most of the future recess problems that can eat up your time and energy.
Heidi
So do you have any suggestions for recess games to teach your students at the beginning of the year? We would love to get a bank of fun ideas to share. So please come share your thoughts over in the Teacher Approved Facebook group.
Emily
Our second teacher approved tip today comes from Michelle from Stepping into Special Education.
Michelle Vazquez
Hey, educator, I am so excited to be here on the Teacher Approved podcast. I was thrilled when Heidi and Emily asked me to come on and share a teacher approved tip for you.
Michelle Vazquez
But before I begin, I'm sure you'd like to know who am I? Hey, my name is Michelle Vasquez and I am the host of the podcast Stepping into Special Education, where I help special education teachers with strategies and support. I am currently a special education teacher starting my 15th year this year.
Michelle Vazquez
I have been both in the special day self contained classroom teaching students in a combination of grades Kinder all the way to fifth grade for 10 years before I finally transitioned into my current position of a resource specialist teacher where I service students in the general ed classes with IEPs in grades TK, transitional kindergarten all the way to sixth grade.
Michelle Vazquez
So with all educators, including myself, we are always expressing that we never have enough what time, we never have enough time. No matter what we do, we never have enough of it. I get it. I'm a mommy to two active boys, wife, teacher with multiple hats at school, and I'm also a podcaster.
Michelle Vazquez
There is always not enough time for all the things we have to do with our duties at work like lesson planning, meetings, student behavior, but most of all our own personal time with family and friends.
Michelle Vazquez
So if you do not have time, you need to do this one thing. All right, this one thing. And this one thing is, drumroll please…eliminate. The book Essentialism: The Disciplined Pursuit of Less by Greg McKeown is one of the best books I've ever read. It helped change my mindset about how I think about my time at home and work.
Michelle Vazquez
I am still a work in progress. But this is a great book to get you started in a mindset change first. The main gist of the book is being all things to all people versus doing less but better. As teachers, we need to stop thinking that we need to have that Pinterest perfect classroom and constantly judging ourselves with what we are not doing in our classrooms.
Michelle Vazquez
We need to focus on what is the most essential and eliminate what is not. Looking at our classroom environment, what are essential posters and decor that need to be put up on our classroom walls. And then eliminate the unnecessary? What are the essential tools that our students actually need to understand these learning concepts? And then eliminate the time and money with getting supplies that they don't need.
Michelle Vazquez
With extracurricular duties you have after school, is it really bringing joy to your life like Marie Kondo? Or do you need to not volunteer and eliminate extra roles this year, to make more room for things and time that do matter most to you?
Michelle Vazquez
At home, for instance, like taking your kids to their extracurricular activities, or attend their baseball game. Wherever you say yes to something, you are saying no to something else. Just like how we declutter our classroom at home, we need to declutter our calendar. So for your teacher life, and personal life, eliminate the unnecessary.
Michelle Vazquez
If you'd like to hear more, go and check out my podcast, Stepping into Special Education and listen to episode number 47. entitled, Don't Have Time as a Sped Teacher? Do This One Thing Instead.
Michelle Vazquez
It was awesome to spend a little time with you, friend. Go ahead and follow my podcast and you can join me and other educators in my free private Facebook group at www.facebook.com/groups/steppingintospecialed. Take care and have a fantastic rest of your week.
Emily
Thank you, Michelle, for that absolutely perfect tip for our podcast. We're huge fans of Greg McKeown and his book Essentialism and also his second book Effortless is also excellent. Doing less better is exactly what we strive to help teachers do and Michelle is a great resource to help with that.
Heidi
And I think it's so helpful to remember that when you say yes to something, you're saying no to something else. It really helps put into perspective what you're really doing when you commit to something or you choose to spend your time in a certain way.
Emily
Be sure to check out Michelle's podcast Stepping into Special Education, and we'll link to her social media and website in our show notes.
Heidi
That's it for today's episode. Teach your students games to play at recess. And remember Michelle's teacher approved tip to eliminate what is not essential in your teacher life.
More About Teacher Approved:
Do you ever feel like there's just not enough time in the day to be the kind of teacher you really want to be? The Teacher Approved podcast is here to help you learn how to elevate what matters and simplify the rest. Join co-hosts Emily and Heidi of Second Story Window each week as they share research-based and teacher-approved strategies you can count on to make your teaching more efficient and effective than ever before.