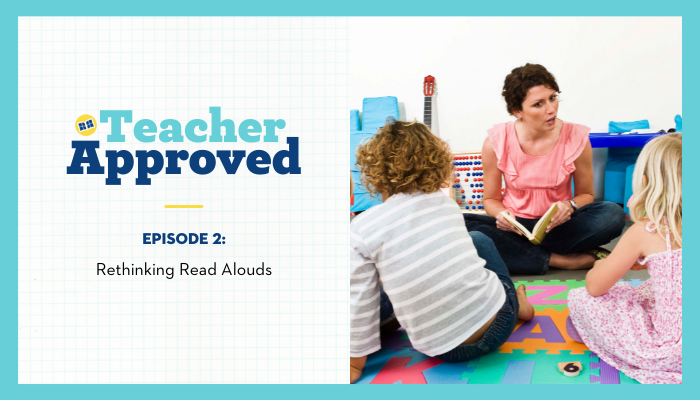 Click below to hear about rethinking read alouds:
Listen on Apple Podcasts | Listen on Spotify | Listen on Stitcher
Morning Message:
[1:20] What read alouds do you remember from when you were a student?
Some of the books that are really memorable for us from elementary school are Where the Red Fern Grows, Charlotte's Web, The Trumpet of the Swan, and The Little Princess.
Read aloud time was always one of our most favorite times of the day as teachers. It's such a meaningful way to connect with your students, especially at the end of a long, hard day. We bet you know all about that!
One thing we've learned along the way is that not all read alouds are going to be a success. There were times when we read certain books, like The Secret Garden, to second graders and quickly realized that probably wasn't the best book choice.
Then there were other times when we found books like The Magic Tree House Series, that really grabbed the attention of pretty much every student in our room, regardless of their reading level. The first time we read a Magic Tree House Book, it completely changed the classroom community for the better. This experience is what led us to rethinking read alouds.
When you think about book titles that we remember as kids versus some of the popular texts in elementary school now, it's very evident that times have really changed since we were in elementary school.
While it's wonderful to expose your students to classics, we're lucky that there is a much wider variety of engaging texts available to us as teachers in today's world!
We would love to hear your thoughts on this question, and future questions, over on Instagram. You can find us @2ndstorywindow.
In this episode on rethinking read alouds, we discuss:
Our approach to classroom read alouds and why you may want to begin rethinking read alouds
A tip that will forever change how you give directions.
How important it is to teach, and model, that it's okay to abandon a book if it's not a good fit.
How whole-class read alouds can make texts more accessible for your struggling readers.
Introducing your class to a wide variety of genres.
This week's teacher approved tip:
[9:45] Give your students' a word to listen for before you give directions.
Have you ever given directions to your class, but they are already starting the task, so they aren't actually listening to you? Try setting it up so that your kids have a cue to listen to before they start following through with the direction.
For example, if you're getting ready to take a spelling test, try saying:
"Okay, when I say go, I want you to get out paper and pencil. Then number your paper one through ten for the test. Go!".
Using a cue like this will help your students stay focused on your full directions and make things run so much more smoothly overall.
What we're giving extra credit to this week:
[11:50] Heidi is giving extra credit to The Velvetizer
[12:30] Emily is giving extra credit to What the Wind Knows, by Amy Harmon
PSA: If you have an irrational fear of accidental time travel like Heidi does, approach What the Wind Knows with caution!
Enter our giveaway!
Guess what? To celebrate the launch of Teacher Approved we're doing a giveaway!
Three lucky winners will receive a $100 gift card to Teachers Pay Teachers. To enter:
Take a screenshot of your favorite launch episode: episode one, two or three.
Add it to your Instagram stories and tag us @2ndstorywindow.
BONUS ENTRY: Follow this show and write a review on Apple Podcasts. Before submitting, screenshot your review and send it to us in a DM so that we know who wrote the review.
This giveaway ends April 4, 2022.
Resources:
More About Teacher Approved:
Do you ever feel like there's just not enough time in the day to be the kind of teacher you really want to be? The Teacher Approved podcast is here to help you learn how to elevate what matters and simplify the rest. Join co-hosts Emily and Heidi of Second Story Window each week as they share research-based and teacher-approved strategies you can count on to make your teaching more efficient and effective than ever before.