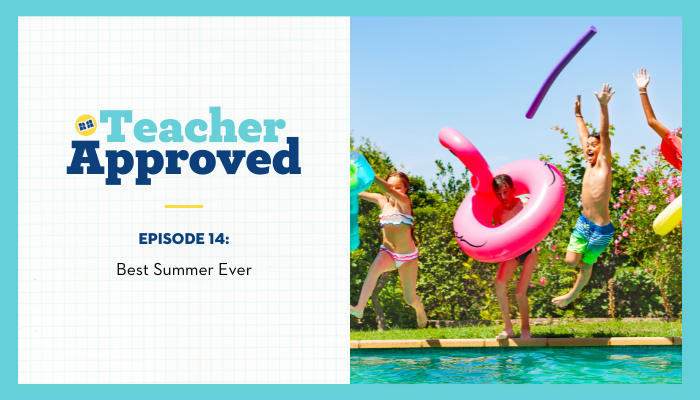 Click below to listen to your best summer ever:
Listen on Apple Podcasts | Listen on Spotify | Listen on Stitcher
Morning Message:
[1:11] What was your favorite memory of this school year?
After a long and hard year, taking time to remember those special and your favorite moments can be just what you need. Although we don't have students this year, we still had favorite memories. Ours include hearing all the stories of teachers or parents using our products, especially the success stories, and being able to witness kindergarteners singing, especially if they're your own kid!
Our listeners also shared their favorite memories from this year. Those memories are going on maternity leave – it was a rough year, doing Grinch activities in December, hugs from students, especially difficult ones, and my non-English speaking student spoke to me in English. All of those memories make a rough year more memorable!
We'd love to hear your responses to this question and future questions, so let us know over on Instagram!
Here's an overview of episode 14:
Most of you are officially on summer break! But have you decided how you're going to spend the summer? The last few episodes we've been talking about how to design your summer and last week was all about Heidi designing her summer. So in today's episode, we're continuing our conversation with designing Emily's summer in order to make it her best summer ever.
Throughout our conversation, we emphasize the 4 areas of recovery: relax, refresh, refocus, recharge, while incorporating our boundaries and goals. Remember, those are crucial in designing your summer to make it the best summer ever. Tailor your summer plans to fit what you need for recovery and be intentional in your plans for approaching back to school readiness.
The school year can be full of stress, deadlines, and chaos, which is why we encourage you to recover during these summer months that best fit what your type of recovery looks like. So after listening to the past several episodes, that's why our number one goal is to make sure you have the best summer ever!
We invite you to join us for our FREE Design Your Summer Challenge. This challenge will help you identify what you need for recovery this summer and make a plan for back to school readiness. You can sign up now here. We hope you'll join us!
In this episode on your best summer ever, we discuss:
The breakdown of Emily designing her summer
Why it's important to be flexible with your work and time constraints, especially during summer
How to set clear boundaries and goals for your summer
This week's teacher approved tip:
[16:44] Add clear labels to your back to school shopping list
If you're like us, you have to break down your room at the end of the school year, which includes labels. For years we bought regular labels, but we always had label residue from trying to peel them off.
By switching to clear labels, that was a game changer! Not only do they come off easily, but there's no residue from the labels at the end of it. We know back to school shopping isn't happening yet, but make sure to add these to your back to school list for the fall!
What we're giving extra credit to this week:
[17:57] Emily is giving extra credit to Lazy Genius Kitchen by Kendra Adachi
[18:35] Heidi is giving extra credit to The Digit App
Resources:
If you enjoyed this episode, you'll love these too:
Read the transcript for episode 14, Best Summer Ever:
Thanks for joining us today. In today's episode, we're going to finish our discussion about designing your summer. And we'll share a teacher approved tip for using clear labels. I'm running the show by myself at the moment since Emily's family is sick. But fortunately, we already recorded our discussion about designing Emily summer, so you will get to hear from her a little later in the podcast.
But before we get to that, let's jump into this week's morning message. We start our episodes with a morning message just like we used to do at morning meeting in our classrooms. This week's morning message is what was your favorite memory of this school year? I don't have students of my own at the moment. But I feel like the students of the teachers that use our products are our students by extension, our students once removed maybe. And so I love getting to hear their stories. And one of the best memories of this year was hearing from a mom who's homeschooling her son and is using one of our products to help him learn how to read after he has been working so hard for that goal he's wanted to read for so long. And this just was able to support him and take those next steps. And he was able to become a reader. And I just I've been teary eyed for days just thinking about that. And the power is to be a teacher in the ways that we can affect so many lives. And even though Emily isn't here right now she shared with me her morning message so I can pass that on to you. So Emily says, Well, I wasn't in the classroom as a teacher this year. I did volunteer in my kindergarteners class every week. They did their singing time while I was there, and I loved hearing them learn sweet songs like You're Grand Old Flag and What a Wonderful World and I'm gonna second that I love nothing cuter than kindergartner singing. We have some responses from our community. Kaylee said going on maternity leave this year was something else. Nat said doing an entire week of Grinch activities in December. Oh, that sounds so fun. I love being a teacher in December. Stephanie said hugs from one of my most difficult students. And Shannon said today my non English speaking students spoke to me in English. The first thing he told me was I love you. My heart melted and I almost cried. I believe it because I'm almost crying right now.
Last week, Emily and I started a conversation about how we are each designing our own summers this year. But as is typical with sisters, probably our conversation ran much longer than we expected. So make sure to go back and listen to episode 13 to hear the first half of this conversation. And now we're going to jump in where we left off with Emily designing her summer.
Well, let's pivot Emily, let's start with you. So how are you feeling going into summer? I am feeling end of school your parent tired, which is the thing I did not know existed when I was on just the teacher side of this. There has been a very high level of demand for my kids right now with their extracurricular activities and then the school activities. And I have a kindergartner who's got a kindergartener graduation. I have a sixth grader with a sixth grade graduation. And my kids are at two different schools. So twice the field days twice the parent demands. So I'm feeling a little bit desperate for an open schedule. Yes, I am someone who really does not handle interruptions to my regular life very well. It just throws me off completely. So I'm really feeling burned out on appointments right now. Understandable. So what would help you feel relaxed going into summer? What What's something you could do that's fun and freeing? I've been trying to decide. I actually, I haven't discussed this with you, but it would involve you. So hopefully, hopefully this has an idea, plot twist.
I realized that I really miss going to the movies. So that used to be something we would try and do here and there when I would have time that my kids were busy that we you and I will go to a movie, but that has become harder to do just with my life and also with the pandemic. We're really haven't been to a lot of movies and so I kind of thought that might be a fun summer plan to try and go to the movies more often and some of that might be taking my kids to the movies, which isn't something we do more than once or twice a year. So doing them in the summer. And I know, our local theater offers like summer morning shows for kids, I think like once a week, which we've never done before, but maybe if we tried to do hit a few of those, that could be really fun. And then if you and I went to the movies, and we scheduled it in, so it actually happened a little more often. I feel like that could be like it would feel a lot like almost like playing hooky, I think. So I think it would kind of hit that like, really just doing something that is truly just for fun. That actually really does sound like a lot of fun. Let's do it. It's air conditioned. So as for summer activities in the air conditioning, air conditioning and popcorn, what more could you want? Happy, happy life? That's a good idea. Thank you for thinking of that.
How about refresh Emily, what makes you feel like you? Well, I am a lover of routines, yes. Which sometimes it makes my life harder, because I'm like, we have to be married to the summer schedule that I set forth. Even though today it is not working. So I think I want to instead of leaning so hard on routines, kind of wanting to lean more on rituals. And especially if I can come up with some that are really specific to the summer too it might be perfect. So reading out loud to my kids at bedtime is one of the most important home rituals to me, I really prioritize that time. And in the summer, when our other routines might be crazy, I really want to make sure I'm leaning on that. But we're reading together every day ritual that's smart to control what you can control because you will be going to bed every day. Yeah, you've been assured the whole day is just been up ended. And the good thing about that is I feel like we did it if we read two pages, and if we read two chapters so we can adjust based on how crazy the day is. And I really feel like the most truest version of myself and the parent that I feel like I am inside when we're learning or reading together. So I just really want to lean into both of those. And I also want to come up with a new ritual that's just for summer. But I haven't landed on what it is yet. I would love to do something like a fire pit. But will we've done it before. My kids aren't actually that into it. No, they're very, and they don't really care about the marshmallows or roasting marshmallows has little appeal. They're not really the age that like sitting around chatting is a thing. And we also live someplace that has a lot of mosquitoes. So being outside, sitting around the firepit did not work, I want to think of a different ritual that would be new. And just for summer, I will say we kind of have a ritual that we started last year of going to the neighborhood pool. So that's just something we have where we live that we can go to for free. And in the past, we haven't utilized it a lot because my kids weren't good enough swimmers that I felt like going frequently was not super stressful. I hated going when they were younger, because I was just like on edge the entire time. Now that they're older and much more proficient swimmers, I actually feel like being able to just at some point everyday make it over to the pool, not every day, but most days was a good summer ritual. So I'm sure we'll be doing that again this year. So maybe I can add something to it to make it feel more like our daily summer ritual is most days going to the pool. That's smart to tack it on to something that you know is going to happen most of the time anyway. Yes. And it did of having to carve out extra time. Yes, it's something I know they're all super into and looking forward to. And it's an opportunity for them to be outside and also socialize. There's usually friends there a win win for everyone there. Yeah.
How about refocus what keeps you fastened to your foundation? So for me, it's like you like when I actually prioritize taking time in the morning to do some personal study, to also dive into those professional development books that we grab, and I want to get into. And sometimes it's hard to just find the time, because in the middle of the workday, it feels like that's not the best use of Yeah, I can do it later. Yes. So I think starting my day, right doing that, getting my exercise in in the morning, I think if I can start the day with those. And also I kind of want to do a little bit of learning with my kids during the summer. I always have in the past where we do just a little bit of something together. I'm not totally sure what that's going to look like this year. And I'm going into it with less rigid expectations than I have in the past of like 20 minutes of doing spiral review together and 20 minutes of reading I think where I'm at right now when my kids are at I think I need a looser goal for that other than we're just going to try and make it happen every day to sit and learn something together. So I think starting the day with those two things, I think it's smart that you've got a loose grip on it because so much in the summer you just can't control how the day plays out. Yeah. All right.
And what about recharge what fills you up? So for this one, I'm thinking I've been really on a reading kick. And I do always read but recently I feel like I've just been more and more excited to read I prioritizing, reading over other things I like to do. And so I think heading in the summer I want to do the trade summer of just like only fun. I already lean that way anyway, but I tend to intersperse other you know, other books. I feel like you're pretty balanced reader. Well, thank you. I think for summer, I think I just want to lean hard on the like, chick flick sort of reads, the beach reads the light reads that are just going to be fun and relaxing. And instead of setting a goal for how many I want to read, I just want to do the opposite. And just like be excited at the end of how many did I get read? Oh, that's smart. So you're not so tied into checking things off your list? Yes. Well, if anyone has any good beach read titles send them my way, yeah, please. Yeah, I can't wait to see what you come up with. That's a fun idea. makes it feel like summer. Yes. So movies and books and pool and reading with the kids. I think it sounds very relaxing. Yeah, I'm excited.
Well, then let's pivot to the less fun stuff. How do you want to feel in August when we're facing the back to school crunch? Well, unlike your particular work, stress, my work, stress is really summer based, we are going to be doing some really new and fun and exciting things this summer that we've never done before, that fall a lot into my responsibilities. And so those things will actually be wrapped up by the end of August. So what I'm hoping to feel is that we had a successful summer. To me what that would mean is that we actually launched this thing that we have wanted to do for so many years, it's embarrassing. We are the Queen's of the big plans. Yes, every year was going to be the year and then every year, it's suddenly summer and it was too late to get it started. And and then you have to wait another year because this is really a seasonal project that we're working on. If we can't do it perfectly. Why even bother, right? And so this year, I'm so impressed that we have committed to it and decided that no matter what we're doing this, hopefully will be super happy with how it happened. But even if it's not perfect this year, I just want to have done it. I want to be able at the end of the year to be like okay, well, we did it, we did it once we the first time is the hardest, we did something that we've wanted to do for so long. I think that's really important. Not only just like checking things off the list, but and like growing is painful. Yes, yes. We don't want to be tied to a perfect outcome to get something going, which is how we finally started the podcast, or two, because another thing we talked about for years and years and years, and once we finally just committed to it. And it's been amazing. We love it. And it's so perfect for the two of us. And I'm glad we finally just jumped in and did it. So I want to be able to feel like okay, we did it. We did it. And then next year, we may do it differently. But at least this year, we did it and that is literally my only goal with it that we did it. I support that fully, mostly because I have to since I'm half.
So what specific goals do you need to be able to achieve that? Well, my plan with this because there's so much that needs to happen is to set like micro goals. So I'm planning to break it down. So every day when I get into work, I'm going to have a goal for getting something very small done on the big to do list, maybe multiple very small things done so that every day I can see that I'm moving closer to our goal. Instead of huge goals. I'm looking at eating the elephant one bite at a time. That's the way I'm approaching goals for work this summer. I think that sounds really smart. That sounds really smart. Does that sound really smart? It does sound really smart. I got lost in thinking of all the little tiny goals that it's gonna take. But it is motivating to cross things off your lists. I support that.
Okay, so what kind of boundaries do you need to set around your work to be able to protect your work time and still honor your other priorities in the summer? And that's what's so tricky as a mom with kids home during the summer while you're trying to work. And the unpredictability of summer also makes it hard for me to know exactly what the boundaries will be. In theory, I could set a time every day that I'm going to be done working. But some days, that's just not going to make sense. Some days I'll need to end earlier. And other days the kids will be out playing in the neighborhood, we live in this amazing cul de sac like they're suddenly out playing for two more hours. And that's a perfect time for me to work. I'm not just it's not taking me away from time I could be with them because they're playing with their friends. So setting an ending work time in the summer just doesn't make sense. But I'm planning to set a rough time of like I kind of want to be done with work at about this time every day. And then I'll adjust as needed if the kids just really need me earlier I will be prepared to wrap it up earlier. And then knowing that on other days I'll have extra time and then prioritizing the time that they are busy at summer camp or whatever, to really do a lot of work during that time so that I can go a little lighter on the days when they are there. It's smart that you've considered this going answer you're not frustrated when like there interrupting you during your work time, or you feel guilty working like outside of your hours even though the kids aren't around, right? It's just smart to know that you need to be flexible going into it. Yes. And I think the one other boundary I might set is just setting one day. I think it would be one day every other week just based on what our schedule looks like that I'm not going to work at all on a weekday when I would normally work. And then they'll know that ahead of time, too. So if there's something that we're wanting to do, that's a bigger commitment, we can schedule it for those non work days. And of course, I can add or subtract days as needed, but planning ahead for about one every other week that we're just going to be no work for mom on those days. That smart then you can just get all that fun mom stuff in. Yes.
Okay, so we have our summers planned ready to go. We hope that diving into this today has given you some ideas for how to design your own summer and we would love to hear about it in the Teacher Approved Facebook group or on Instagram. At @2ndstorywindow. Tailor your summer plans to fit what you need for recovery and be intentional in your plans for approaching back to school readiness. We can't wait to hear what you have planned.
Hey, it's Emily interrupting this episode to invite you to join us for our free design your summer challenge. This challenge will help you identify what you need for recovery this summer and make a plan for back to school readiness. You can sign up now at secondstorywindow.net/design Your summer. We hope you'll join us.
Now let's talk about this week's teacher approved tip. Each week, we leave you with a small actionable tip that you can apply in your classroom today. This week's teacher approved tip is add clear labels to your back to school shopping list. It might seem kind of silly to think about this now, because you're not going back to school shopping yet. But I don't want you to forget for later because these can come in so handy. The school where I taught was very strict about making teachers prep our rooms to be cleaned in the summer. And one thing that we were required to do was to take down any labels. So that meant all the coat hook labels, the labels and cubbies. And anywhere else in the classroom that had you know those Adhesive Labels, those had to come down. And after a few years of tearing up my fingernails trying to peel off all that label residue, I discovered that Avery makes clear labels. And so I experimented one year using them and they held up without issue all year. And then bonus they just peel off like a dream at the end of the school year. So if you like me find yourself scrubbing it sticker residue at the end of the year. Try switching to clear labels in the fall. I just wanted to get that out there now so you can know what to buy before you start back to school.
To wrap up the show we're sharing what we're giving extra credit to this week. And Emily's not here but I'm going to share her extra credit anyway and she is giving extra credit to the lazy genius kitchen by Kendra Dachi. We have talked about the lazy genius several times because we love her so much she is the best. And her new book is all about how to be a lazy genius in the kitchen. As someone who doesn't love cooking, this book is really made for me, Kendra walks you through how to organize your kitchen to work more efficiently for your needs, how to decide what's most important to you when it comes to feeding the people in your home who for some reason keep demanding to be fed? And how do you create rhythms for your kitchen that work well for your life. And despite its title, it is not a cookbook. This week, I'm giving extra credit to the digit app, I just had to buy a new air conditioner, which is just as fun as it sounds like. And I was so relieved though that I had the money on hand. Because I've been using the digit app for a couple of years. So the digit app works by taking out just small amounts of money from your checking account might be you know, like 11 cents, and then it just builds up in the app so that you are building savings and kind of a pain free way where you're not really feeling the pinch of having to save a bunch all at once. So since I've been using it for a couple years, I had enough in there that I could pay for my new air conditioner, which was very nice. The drawback to using this as your savings however, is that it doesn't accrue interest like it would if you were using your banking savings account. So I wouldn't use it as a main savings account. But it is very handy for a rainy day fund. It's very flexible. I'm not giving any financial advice here. You have to decide what works best for you. But if you're looking for a pain free way to build some savings, it might be worthwhile to check out the digit app.
That's it for today's episode. Remember to add clear labels to your back to school shopping list. And we hope you'll join us in our upcoming design your summer challenge. To join the free challenge head to secondstorywindow.net/designyoursummer. Thank you for listening.
More About Teacher Approved:
Do you ever feel like there's just not enough time in the day to be the kind of teacher you really want to be? The Teacher Approved podcast is here to help you learn how to elevate what matters and simplify the rest. Join co-hosts Emily and Heidi of Second Story Window each week as they share research-based and teacher-approved strategies you can count on to make your teaching more efficient and effective than ever before.