You asked and we delivered!  So many teachers have been asking for more
homework pages that we had to say yes.  What we have is a 40-page
extension pack to our original 100 days of homework. That homework is designed to cover the entire year so we designed the add-on pack to function as a tool for reviewing the important concepts of 2nd grade.
Like our original set, these new pages are a daily half-sheet with language arts practice on one side and math on the other.
The pages cycle through 5 language art topics:
Phonics — identifying vowel sounds, spelling, and sight word practice
Comprehension — reading and responding
Grammar — contractions, possessives, proper nouns, past tense
Writing — composition and editing
Vocabulary — context clues, glossary skills, prefixes, compound words
And 5 math topics:
Place Value — number names, place value, and expanded notation to 1000
Measurement — length, time, and money
Problem Solving — addition and subtraction (one and two-step problems) with 2 and 3-digits
Number Sense — even & odd, greater than/less than, arrays, skip-counting
Geometry — shapes and fractions
Each page is labeled with the common core standard it supports and an "I can" statement for each topic.
Here are a couple of full page samples. Remember, if you purchase the set, each file is 2-days worth of homework.  It's
meant to be copied back-to-back and then cut in half.  You should then
see day 1 literacy on one side and day 1 math on the back.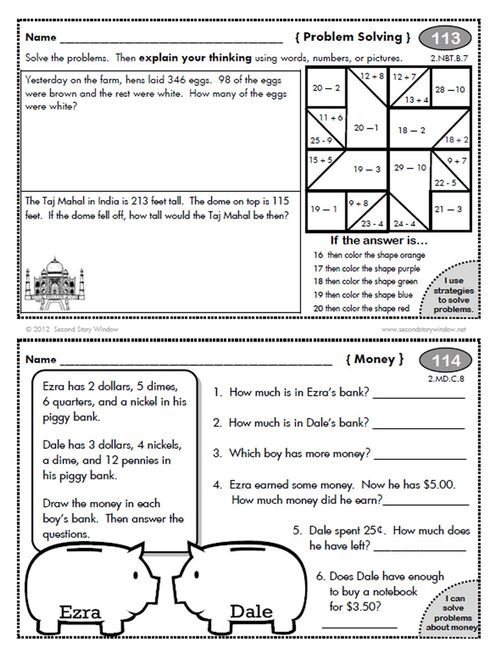 Where
the content in the first 100 pages is progressively more difficult,
these pages cover all the core standards for 2nd grade at an end-of-year
level.  That makes them perfect for someone, like me, who doesn't need
homework practice but could use some end-of-year test review practice.  The
students do a 1/2 sheet every day after lunch.  I have them give the
papers to me when they're finished so I can glance over them.  That way I
can clarify any lingering misconceptions.
In our Teachers Pay Teachers shop you can download a 6 page sample.

Let us know in the comments if you have any questions about the homework add-on pack.